Bag Up Baits Roach & Silver Fish Feeder Mix 500gm Session Pack - FREE DELIVERY - BUY 2 PACKS GET 1 FREE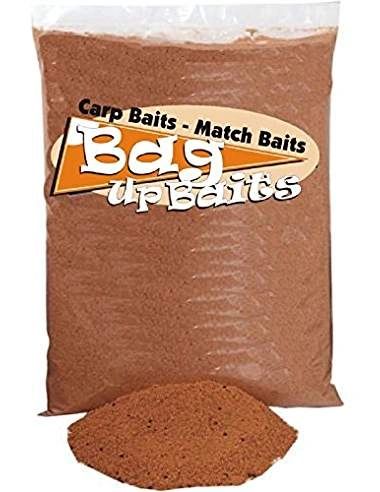 Bag Up Baits Roach & Silver Fish Feeder Mix 500gm Session Pack - FREE DELIVERY - BUY 2 PACKS GET 1 FREE
Bag Up Baits Roach & Silver fish feeder Groundbait has been specifically formulated to attract and stimulate Skimmer bream roach Rudd and most silver fish of all sizes. Its versatility enables anglers to obtain the perfect dark brown groundbait mixture for carrying particles  such as hemp or caster and sweetcorn . Brilliant for either feeding in smaller soft balls on a regular basis for pole fishing or ideal for all feeder fishing. Used confidently on any type of venue & rivers. 
'' Contains flavours that are proven to attract more and bigger Roach and silverfish this time of year ''
GROUNDBAIT MIXING INSTRUCTIONS
1. Place the dry groundbait into a  bowl and blend before adding the water.
2. Add water slowly whilst  stirring the groundbait together.
3. When you feel the mixture is damp enough, set it aside for about 5  minutes to allow the moisture to be fully absorbed.
4. You will find before use a little more water may be added to the mix.
5. In some circumstances this Roach groundbait is more effective when mixed well in advance of its required use time
GREAT OFFER TOO !! BUY 2 PACKS OF THIS GROUNDBAIT AND WE WILL SEND YOU 1 EXTRA PACK FOR FREE

Reviews