BUY 1 PACK GET 1 FREE - MINI BLOODWORM PELLETS 500GM BULK PACK OUTDOOR MICRO 1.5MM POND FISH FOOD PELLETS FOR OUTDOOR POND FISH- Aqua Food Company High Growth Bloodworm Sinking Pond Pellets For Goldfish - Koi Carp All Pond Fish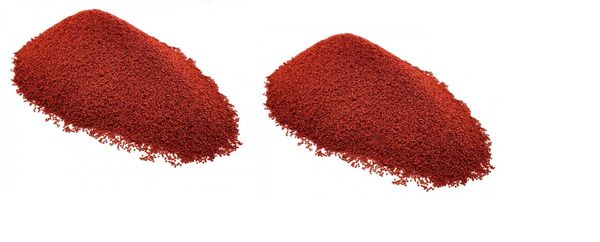 BUY 1 PACK GET 1 FREE - MINI BLOODWORM PELLETS 500GM BULK PACK OUTDOOR MICRO 1.5MM POND FISH FOOD PELLETS FOR OUTDOOR POND FISH- Aqua Food Company High Growth Bloodworm Sinking Pond Pellets For Goldfish - Koi Carp All Pond Fish
500GM PACKS OF 1.5MM BLOODWORM OUTDOOR FISH FOOD PELLET OFFER

'' LOVED BY GOLDFISH '' KOI CARP DUE TO THE SCENT OF THE PELLETS

YOU WILL RECEIVE X 2 PACKS OF POPULAR BLOODWORM MINI OUTDOOR FOOD PELLETS IN 500GM BULK PACKS FULL OF NATURAL BLOODWORM FLAVOURS THAT KOI CARP - GOLDFISH AND POND FISH FEED ON

For Best Results do not over feed just feed little and often 1 - 3 times a day depending on size of pond and amount of fish. Due to the pure natural bloodworm in the pellets sometimes if overfeeding it could cause pond water to turn pinkish colour so only feed a few pellets at a time per fish.Popular Sinking Pellets that are a complete and balanced food for all fresh water pond fish including Koi Carp, Goldfish and other ornamental fish.

RRP £39.99 NOW ONLY £19.99 WITH FREE DELIVERY - Includes all the Healthy nutrition your Goldfish and Koi Carp need to grow . Expect healthy growth and excellent form when using these pellets on a daily basis.
Reviews